WIRING HARNESSES
A wiring harness is required for any vehicle towing a trailer.  The type of wiring harnesses is determined by the trailer you are going to tow.   We are here to help you determine what type of harness you should use.

4 flat
used for light functions on most small, single axle trailers
is the most common electrical connector on single axle boat trailers, cargo trailers, snowmobile trailers, motorcycle trailers, rental trailers and wave runner/jet ski trailers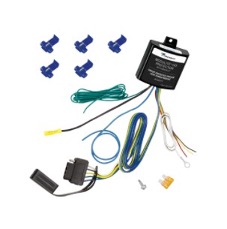 5 flat
is very specific to boat trailers with disc brakes
As your vehicle begins to slow, the weight of the trailer moves forward. When this happens the actuator on the trailer compresses and pressurizes the hydraulic fluid in the brake lines and causes the calipers to apply pressure against the rotors causing the speed of the trailer to reduce.  The actuator doesn't know the difference between compression from forward motion and backward.  Therefore, when backing up a hill the actuator will apply the same pressure and engage the brakes.
A 5 flat connector allows for a 5th function to the trailer.  It is activated by your reverse lights when your tow vehicle is placed in reverse.  The power is sent to a back-up release which disengages the brakes so you can back up the hill without the brakes applying.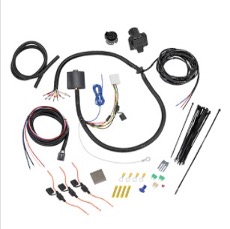 7 way

These connectors are very popular and used on the majority of trailers with electric brake systems.
Enclosed Cargo Haulers
Equipment Haulers
Landscape Trailers
Horse Trailers
An electric brake control is needed when your trailer has its own independent braking system that is powered electronically.  Don't confuse brake lights with brake function as they operate separately. The only way the electric brake system will function is with the use of a brake control (there are two types).
We will help determine which option is best for you.
TRADITIONALLY WIRED
installed in the cab

WIRELESS
connects to the 7 way connector